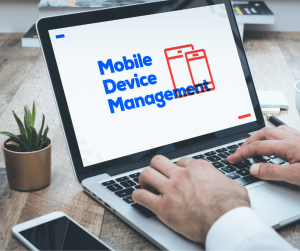 It can be complex and time-consuming to set up any organization. All of these details, such as machines and iOS devices, accounts and logins, and what software needs to be deployed, are all on your plate. MDM or Mobile Device Management is the answer to that problem.
It's always a challenge to organize all of the technology involved in any Apple setting, regardless of its size. It could be a tough effort to set up all of the computers and iOS devices, especially because half of them require apps, logins, and security standards. Then there's the issue of support tickets to contend with. To put all of this together, It's called MDM or Mobile Device Management. It's a single place where you can manage all of your devices, including app distribution, security logins, and more.
Apple heavily encouraged MDM, and with future operating systems, it will be more difficult to manage devices in an organizational context without it.
MDM is beneficial not only to:
businesses,
but also to non-profit organizations,
schools,
and government agencies.
It's simply too difficult and risky to deal with each computer individually.
Organizations benefit from MDM in a number of ways:
#1: Quick, Consistent Set Up
Organizations use MDM to build what are known as profiles. They are essentially a set of instructions or settings that may be sent to a computer. All of the settings may be re-pushed to that computer every time a new user logs in or if you wipe it, so you always have the same consistent setup. You may push apps, settings, and security protocols with an MDM, and that computer will be set up the same way every time. If you go into stuff like single sign-on or identity management, you could even push user accounts. In the best-case scenario, the new user only needs to turn on the computer and sign in. The MDM will download all of the necessary apps and push whatever is required so that the user can get started right away.
#2: Improved Security
You may configure options such as requiring a passcode on an iOS device or determining how long it will take for your password to be required. All of these may be pushed, and from an IT standpoint, MDM provides some of the best security because it allows you to lock and remotely control the correct devices. You'll never have to be concerned about losing your data again.
#3: Lower Cost
Yes, because MDM is a cloud-based service, there will be a fee associated with it. Consider the actual cost against the time and cost of having a person spend two to three hours setting up each computer for each new user. When you utilize an MDM, it's almost like you can set it and forget it since you can change the applications and settings on the fly, and every computer will be set up and receive those things, rather than having to update and set up each computer separately. As a result, using a technology like an MDM will save you money in the long run.
#4: Asset Tracking
MDM offers information-rich asset tracking, allowing IT providers to know where machines are, track them, and gather a lot of data about them. The best thing you can do is keep track of when these equipment need to be replaced so that your end users can get the most out of them.
How does this benefit your users?
Personal and Work Separation
It's actually rather simple to secure and isolate personal and work information on a single device with an MDM, removing the need for employees to carry both a personal and a work cellphone. Using an MDM isolates the two, making things a lot easier.
Faster, Easier Setups
No employee likes to sit down on the first day of work and has to enter their new username and password on 17 websites and 20 different programs. Using an MDM, you can actually provide the user with the capability. They can sit down, enter their username and password, and allow MDM to push the programs and settings to their computer; guess what? That employee is now working on day one.
Peace of Mind
With security settings pushed by your MDM, you can assure that as more users make mistakes, nothing happens to the organizational data because the machine is secure. It can be remotely locked, wiped, and rebuilt in a matter of seconds, allowing the user to get back to work and undo their mistake.
Finding the appropriate MDM for your company, as useful as it is, is not straightforward. There are a lot of different providers out there, so you'll have to figure out exactly what you want in your MDM. Some offer identity management, while others only work with specific tools, while still others work with both Mac and iOS devices.
Contact us right now so we can assist you in determining which option is best for your company, but MDM is here now, and you'll need it. You can reach us by calling 855-448-2178 or sending an email to info@it21st.com.