IT MANAGED SERVICES BENEFITS
IT21ST provides companies with Full Coverage Monthly IT Support Services for a fixed flat fee per month. By proactively monitoring and maintaining your entire IT infrastructure, we are able to give your business the guarantee you need to run smoothly. Our technology support engineers are specially trained to become intimately familiar with the technology at your company. This service provides Cyber Security and Ransomware Protection amongst all other technology services a company needs.
IT21ST Managed Services [MSP] are customized for the unique needs of your business. Instead of paying to resolve issues on a per incident basis, our Managed Services subscription provides all of the IT resources you need at an affordable flat rate.
We take a proactive approach and continuously scan for potential trouble spots to prevent any IT/network issues from developing into major problems that could impact your systems.

Managed Services is powered by IT21ST's "ProCare 360"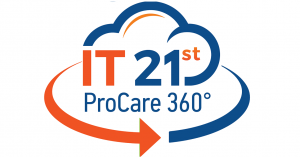 Click Here to download the PDF version of the table below
Covered Services

Description

User Support

Unlimited Helpdesk
Unlimited Remote Support
Unlimited Onsite Support
Software Security updates
PC Hardware Support
PC Software Support
MAC Hardware Support
MAC Software Support

During Business hours / M-F from 8:00AM to 6:00PM
Via Phone, Email, Ticketing and Remote Access
As needed if the issue cannot be resolved remotely
Patching of Systems. All security updates to all software
Troubleshooting/Repair included when PC is under Warranty
OS and Software related glitches and repair
Troubleshooting/Repair included when MAC is under Warranty
OS and Software related glitches and repair

Cyber Security

NextGen Endpoint Security
Ransomware Protection
Anti-Virus/Anti Malware
Risk Analysis
Web Traffic Control

Next Generation Anti-Virus, Anti-Malware Protection including License fee
Roll-back feature to remove Ransomware from computers
Fully-fledged prevention, detection of viruses
Scanning/Reporting of computer/PC data for PII
Prevention and Control of certain websites by category or specific address

Email Security

Safe Link
Safe Attachment
Encryption
Spam/Virus filtering

[Microsoft 365 is required]
Automatic checking of links inside emails or documents against malicious sites
Automatic checking of email attachments and prevention against viruses
Enabling Encryption for data in transit
Policy to filter Spams and Phishing emails

Monitoring and Management

24x7x365 Monitoring
License Management
Vendor Management
Contract Management
Data Backup and Recovery

Proactive Monitoring of all Active devices on the network
Microsoft and 3rd. party software License Management
Act as a liaison between vendor and customer
Negotiate contract on behalf of customer with vendor
Monitoring and Testing of Data Backup and Recovery of Systems

Server Support

Server Hardware Support
Server Software Support
Server Installation Support

Server should be under warranty by Manufacturer
Monitoring of all Hardware against any malfunction and fixing them
Server operating System, Active Directory, and other issues

Microsoft 365

Account provisioning
Account Management
Multi-Factor Authentication
Microsoft Defender

New User account provisioning
Account management
Enabling/Managing multi-Factor Authentication
Microsoft Defender Setup and Configuration
Managed IT Services is the only reliable solution to defend against loss of productivity, minimizing downtime, avoiding high consulting fees, safeguarding valuable data and providing responsive helpdesk support for your staff. These tasks are complemented by proactively monitoring and performing preventative maintenance to detect and eliminate computer and network problems before they occur.
IT21ST provides affordable, high quality service by using a combination of remote IT management tools, end-user helpdesk support and local and onsite experts.
This service helps business owners not to waste valuable time and money struggling to keep their PCs, Servers, email and network services up and running. Our powerful and flexible managed services deliver the reliability and performance you need to manage your computing environment at a predictable, fixed monthly rate. As your business grows, we will help to ensure you have the right resources in place to sustain its development.